Hi. My name is Sif Sigmarsdóttir. I'm a writer and a journalist. I live in London with my two children, Inspiration-Drain-One and Inspiration-Drain-Two, my husband who goes by the name He-Who-Takes-Out-The-Trash and a family of moths that are unfortunately not the only reason I can't buy myself a proper cashmere sweater.
I was born in the apparent feminist utopia that is Iceland (we top a lot of lists), but still thought there was a gender imbalance in the publishing industry. So, I founded a publishing company to address that imbalance. I wrote about the experience in the Bookseller recently.
I read history at the University of Iceland and have an MA in children's literature from the University of Reading. My books are inspired by history, which I still sometimes research and write about. Most recently I wrote about Annie Leifs, the woman who disappeared from history, in the Independent.
I've been writing children's books in Icelandic for over ten years and was very proud to be nominated for the Icelandic Literary prize for one of them. I write a weekly column for the Icelandic newspaper Fréttablaðið and sometimes express my views in English as well, most recently about equal pay in the Guardian.
The Sharp Edge of a Snowflake is my second book in the English language. If you want to support my dream of owning a cashmere sweater — and a house without moths where one can actually hang a cashmere sweater without it being eaten up — you can buy my book from Amazon.
I tweet (not much), hang out on Facebook (too much) and share a filtered version of my life on Instagram.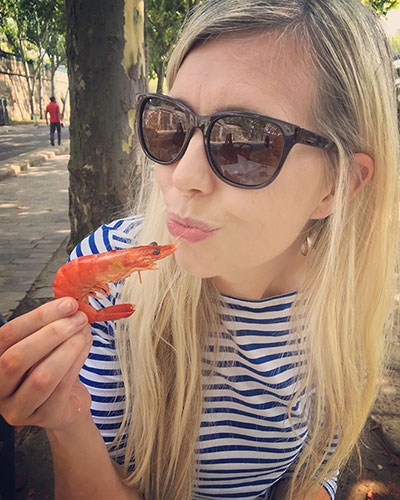 Me (right) and a prawn.